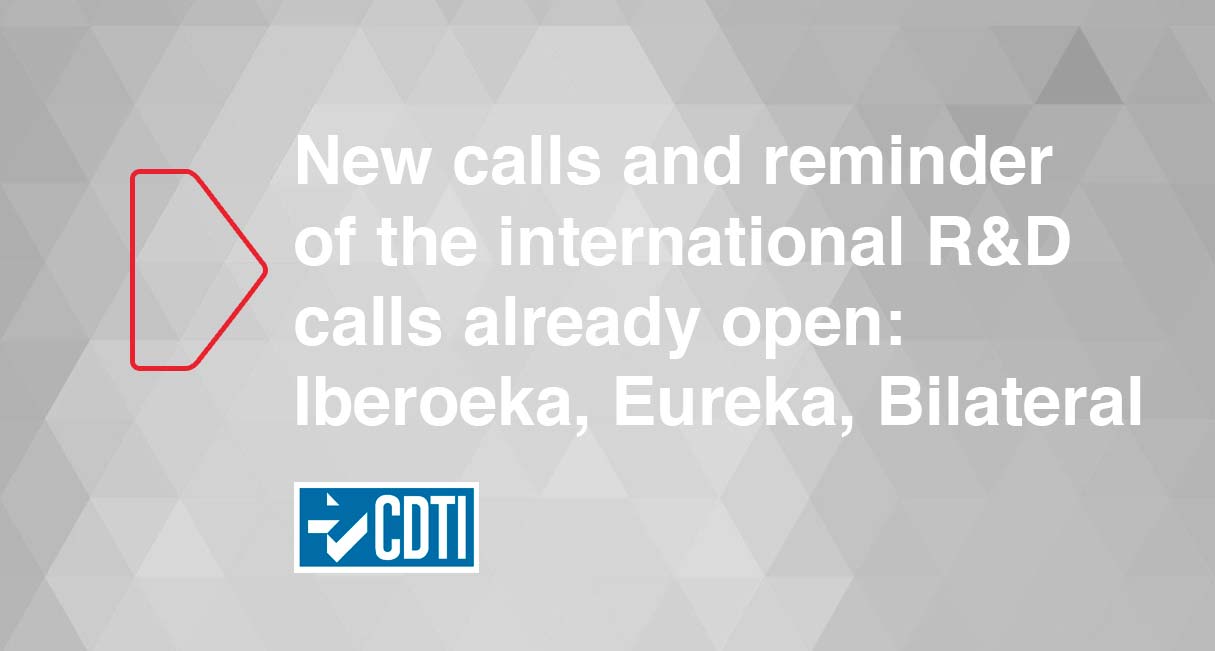 We remind you that the following international calls agreed among CDTI and their homologue organisms, which objective is to promote technological internationalisation of Spanish companies through the development of R&D collaborative business projects. New calls:
Iberoeka: Argentina. Seventh call / Business technological collaboration call between Spain and Argentina.
CDTI in Spain and MINCyT (Ministry of Science, Technology and Productive Innovation) in Argentina, are presenting their calls for R&D projects for collaboration between companies from both countries. The call, open to every industrial sector, will be done in two phases.
Phase I: obtaining the international project seal, open until October 6th
Phase II: Financing, will be open after the evaluation of the projects presented to phase I. Only those projects which have already obtained the international project seal in phase I will be able to be presented. More information will be available in the following days.
Eureka: South Korea. Second call for the Eureka joint call for proposal presentation between Spain and South Korea in 2017.
CDTI in Spain and KIAT (Korea Institute for the Advancement of Technology) in South Korea have agreed in publishing their second call for proposal presentation within the Eureka program in 2017, in which both companies are national managing agencies. The call will be developed in two phases:
Phase of obtaining the seal of international project, the Eureka Seal: participants must present to CDTI and KIAT their proposals simultaneously for the international collaborative project between both countries until 18:00 h on August 31st, 2017 (local time of the financing agencies).
Once the first phase of international evaluation has been successfully passed, Spanish companies that have already obtained the Eureka seal will be invited to submit to CDTI their financing request. For more information, click on this link.
Bilateral: Brazil. First joint call for R&D projects between Brazil and Spain.
CDTI (Technical Industrial Development Centre) in Spain and FINEP (Projects and Studies Financer) have published the "First bilateral call between Spain and Brazil for financing technological cooperation projects between a Scientific, Technological or Innovative Brazilian institution and a Spanish company."
Project proposals must imply an effective collaboration in research and development. Brazilian ICT must be presented together with a company from Brazil. This call will be developed in two phases.
Phase I: Obtaining the international project seal, open until August 24th, 2017.
Phase II: Financing. This phase will be open right after the evaluation of projects submitted to phase I. Only those projects that had previously obtained the international project seal in phase I can be presented. More information in this link.
Unilateral calls
Fourth call for bilateral projects for international technological cooperation with third countries (unilateral projects). Second cut-off date for this call, when bilateral R&D projects with international technological cooperation will be collected for its presentation and evaluation, will be on Tuesday, October 23rd, 2017 until 24:00 Spanish time. Unilateral projects will be developed by international consortiums formally constituted, and with the participation of at least one Spanish company and foreign partners. Projects able to be submitted to CDTI will be those with foreign partners located in the following countries where the CDTI's foreign network has presence: Mexico, Costa Rica, Ecuador, Colombia, Chile, Argentina, Peru, Brazil, China, Taiwan, India, Thailand, Malaysia, Indonesia, Singapore, Pakistan, Bangladesh, Sri Lanka, Vietnam, Philippines, Cambodia, Laos, Myanmar, Japan, Australia, USA, Egypt, Algeria, Morocco, Lebanon and Tunisia.
Projects derived from multilateral and bilateral programs that, having already received a positive pre-evaluation from CDTI but did not obtain the international certification, will be invited to this call. More information on this link.
We would also like to remind other open calls:
Bilateral: India
4th Joint call Spain (CDTI) – India (DST-GITA) for R&D bilateral project financing. Deadline: June 28th, 2017. More information on this link.
4th Call Spain – India in Biotechnology. Deadline July 31st, 2017. More information on this link.
Bilateral: Egypt
ESITIP "Egypt-Spain Information Technologies Innovation Programme. Deadline: June 23rd, 2017. More information on this link.