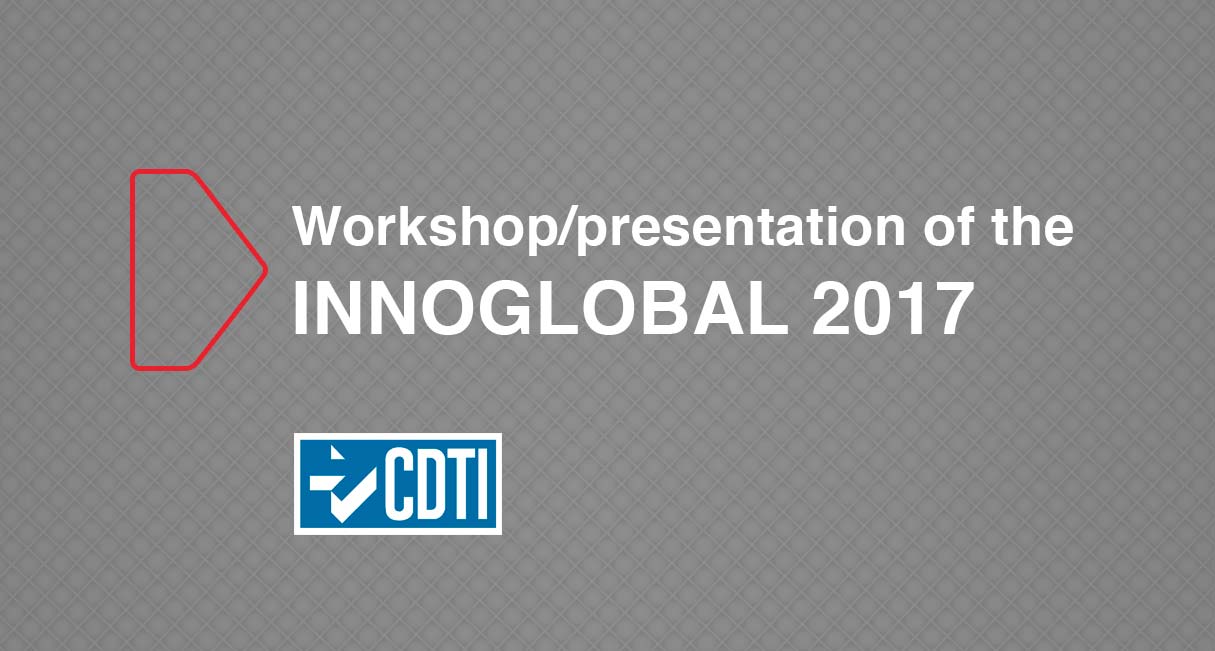 This presentation will take place on the 25th of April in the CDTI headquarters (Cid 4 – 28001 Madrid).
The main target of this presentation is guiding companies interested in being financed through this aid for international technological cooperation projects, within the INNOGLOBAL 2017 call.
This event will consist of a first part where the particularities of all the existing programs of International Technological Cooperation that can be presented to INNOGLOBAL, will be briefly shown; then, the INNOGLOBAL call will be explained practically and in detail. Finally, several bilateral meetings will take place between sectoral experts from CDTI and the organisms that have previously made a request. Likewise, there will be a revision of the financing line of partially refundable loans followed by CDTI.
Registration: Free access up to reaching the capacity. Registration is mandatory and must be done through the CDTI web page. (link)
To make a request for a bilateral meeting with the sectoral experts from CDTI, the request sheet in the following link must be fulfilled and sent by email to dptosbcrn@cdti.es. The deadline for requesting these meetings and sending that sheet is April 21st, and requests will be addressed in order of arrival.
Schedule
8:30 Registration
9:00 Opening and welcome. Nabil Khayyat, Head of CDTI's Promotion and Cooperation Management Division.
Block of contents 1:
Moderator: Cecilia Hernández, Head of the Health, Bioeconomy, Weather and Natural Resources Department, Cooperation and Promotion Management, CDTI.
9:15 Multilateral, bilateral and unilateral International Technological Cooperation programs
Inmaculada Cabrera and Emilio Iglesias, Foreign Technological Action Department, CDTI
10:10 International Technological Cooperation projects for companies willing to participate in international research organisms and in large scientific facilities that Spain takes part of. Roberto Trigo, Aerospace Programs department, CDTI.
10:30 Break.
Block of contents 2:
Moderator: Sergio Lourenso, Energy, Transportation, Manufacturing and Digital Society Department, Cooperation and promotion Department, CDTI.
10:50 INNOGLOBAL 2017 call. Grants for R&D international projects. – call presentation and practical aspects of it. Héctor González, Foreign Technological Action Department and Juan Luis Romera, Health, Bioeconomy, Weather and Natural Resources Department, Cooperation and Promotion Management, CDTI
11:40 Monitoring and national certification. Silvia Martín, Monitoring Management, Systems and Processes, CDTI.
12:10 Practical experience and expertise from companies. Former successful call participant company 2017. To be confirmed.
12:30 Questions and answers. Conference closing.
From 12:30 until 14:00 bilateral meetings with the experts from CDTI, previously requested by companies, will take place.