Conference: "R&D&I national and international projects within the wine sector" Thursday March 23rd, 2017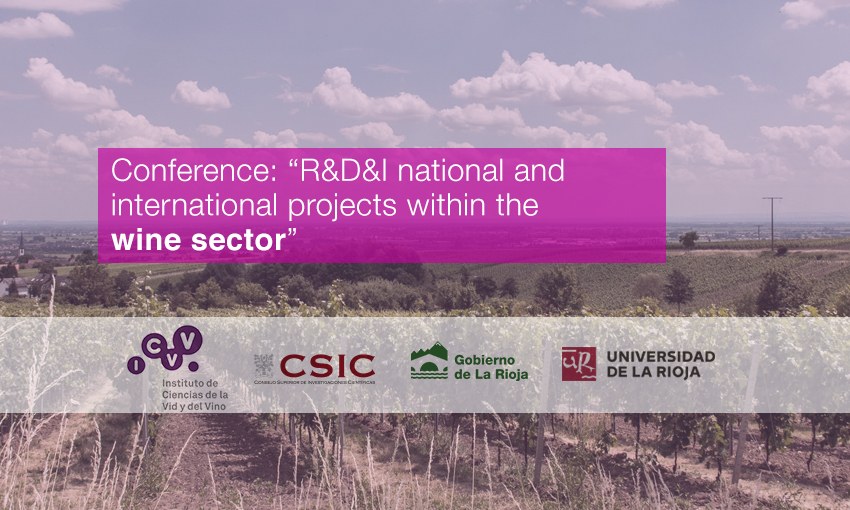 Source: ADER
The following March 28th in the Conference Hall of the Institutional Winery of La Grajera, a conference about "R&D&I national and international projects within the wine sector" will take place. This conference is addressed to researchers from the Vine and Wine Science Institute (ICVV) and to companies interested in the development of R&D&I projects related with the wine sector. During the conference, several financing programmes for R&D&I projects, both national and international, will be presented.
This conference is just one of the activities developed within the project VITIS Europa: Research Specialization and Internationalization, that belongs to the framework "Europe Networks and Managers" from the National Research, Development and Innovation oriented to Society's challenges programme, within the framework of the National plan for Scientific, Technical and Innovation research 2013-2016.
Entities participating in Vitis Europa, INGACAL, FEUGA e ICVV, bet on the creation of a cooperation support structure for research centres represented by them, as well as for the Spanish scientific/business environment: The VITIS EUROPA Office for European projects.
The purpose of this office will be addressing the internationalization of promotion tasks with the wine sector through the inclusion of researchers and companies involved in European projects.
Schedule
11:00-11:30: Financing opportunities for business within the wine sector (Eduardo Cotillas, Technological Industrial Development Centre).
11:30-12:00 ADER's aids and services for easing participation in R&D&I European programmes. (Enrique Esteban, La Rioja's Economic Development Agency, ADER).
12:00-12:30 Coffe break.  R&D&I National plan proyect and aids from University of La Rioja (UR). (Milagros Torrecilla, University of La Rioja, UR).
12:30-13:00 Collaboration with companies: Realize what the OTRI from the UR can do for you. (Mónica Doyague, University of La Rioja Fundation, FUR).
For registration, please send an email to dlllaria@larioja.org
Organized by: Vine and Wine Science Institute, Government of La Rioja, CSIC, University of La Rioja.
Collaborating: Ader, Cdti, Enterprise Europe Network, Sistema Riojano de Innovación.